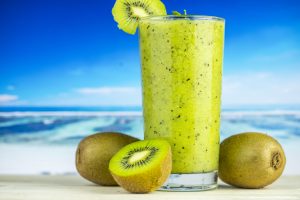 The Ninja Chef blender by Shark Ninja is a powerful fifteen-hundred-watt high-performance blender that comes equipped with next generation blades that can slice through pretty much anything. If you're looking for a versatile blender, not just for protein shakes, but one that can handle juicing, milkshakes, and frozen desserts, then the Ninja Chef is a perfect choice. 
Overview and Features
This model features a total of ten blending programs that are designed to perfectly grind, chop, puree, or blend ingredients. 
The Ninja Chef also comes with ten speed options that allow you to control the blending process so you'll enjoy the perfect consistency each and every time. 
Maintenance
In terms of cleanup and care, the container can easily be cleaned with the push of a button. Simply hit the clean program button after adding some soap and hot water and the blender will take care of the rest. 
Features
The blender comes with a larger than average seventy-two-ounce container complete with a lid with a vented cap, and a recipe book that comes loaded with great recipes for iced and blended drinks. The large container provides plenty of room, so you can make a larger batch of protein shakes to store for later use or enough milkshakes for the whole family in one blending session. 
The hot blending mode is a unique feature you won't find on other models in this price range. The design of the blender will allow users to mix hot ingredients for pureed dishes or soups, so the food can go from the container straight to a bowl. 
The blender's base is pretty powerful, offering fifteen hundred watts. The included next generation blades are designed to slice, grind, and power through a wide variety of ingredients. 
Assembly
Setting up the Ninja Chef is easy. The blender comes in several pieces, but the bulk of the pieces are already assembled, you'll simply fit them together. The package comes with a tamper, lid cap, base, pitcher, and lid. You'll also find the instruction manual, quick assembly guide, and recipe guide. 
Even though the included assembly guide will tell you everything you need to do to get started, we still recommend reading the included instruction manual before you get started. 
Design
This blender is stylish, sleek, and functional. It doesn't come loaded with buttons. Instead, the primary control panel is digital and designed with user-friendliness in mind. This design also makes it easier to clean up spills and drips, since you won't have to deal with trying to clean in between tight cracks and crevices like you would with older button packed blenders of the past. 
Once the container is locked into the base, the LED display panel will light up and you're good to go. Additionally, the blender also features a couple of orientation alignments, which are designed to accommodate both right and left-handers. 
Performance
This model features some great built-in settings. Users can choose from ten blending programs, or they can switch to the manual mode and use variable speed control settings. With the ten blending programs you can make protein shakes, smoothies, almond butter, frozen drinks, and even salsa. 
For the most part, these blending programs work well. However, you may need to adjust the liquid a little based on the type of produce you're using. As an example, tougher material such as apples will require more liquid during the blending process in order to prevent the blades from stalling. 
If you're looking for a model with more blending power than what the Ninja Chef offers, we recommend the Cuisinart CBT-2000, which features a powerful, durable blade design. 
For more information on leading models of protein shake blenders on the market, click here to read our epic buyer's guide. 
The ability to blend hot ingredients is a great new feature offered by Ninja. However, you'll need to pay attention to the recommended hot food maximum fill line when working with hot ingredients, in order to avoid injury. 
Pros
Ten blending programs to choose from

 

Equipped with ten speed settings

 

Larger than average pitcher

 

Powerful

 

Versatile

 

Cleaning mode

 
Cons
Can stall out with tough ingredients such as apples or leafy greens

 
Ninja Chef Countertop Blender Conclusion and Rating
Blender Hero.com Product Rating: (4/5)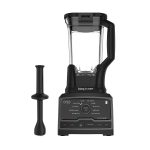 If you've used Shark Ninja products in the past, then you know this is a blender that's designed to last. Versatile, easy to use and loaded with all the right features, including a recipe book, this is a blender that scored high in several areas. 
The Ninja Chef is a blender that has a lot to offer. It's equipped with ten blending programs and ten speed options, providing the type of versatility you need if you enjoy blending a variety of frozen desserts, or dips, soups, and protein shakes. We gave this model a rating of four stars out of five stars.
Check Price
Summary
Reviewer
Review Date
Reviewed Item
Ninja Chef Countertop 10-Speed Versatile Blender
Author Rating