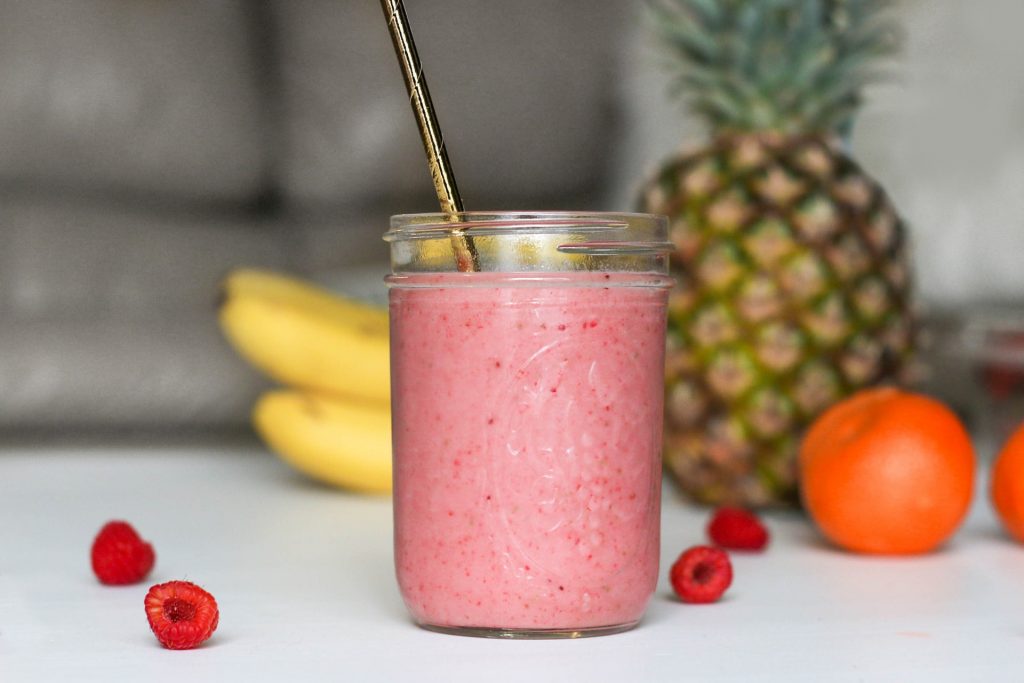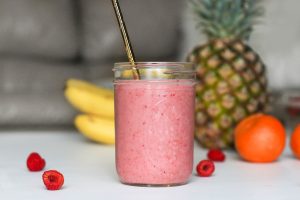 The A2500 Ascent blender by Vitamix features a 2.2 horsepower motor and can handle pretty much anything you throw at it. Considered one of the best blenders for protein shakes, this model can also blend desserts, iced coffee drinks, soups, and more. 
Vitamix is known for their tough, versatile blenders, so we were excited to check out the Ascent and see what it had to offer and how it measures up to other leading models of high-performance blenders on the market. 
Simply put, we were blown away by this blender's performance and versatility. 
Overview and Features
Packing serious power, the blender's motor can pulverize ingredients, providing the type of smooth consistency you're looking for. The blender features a total of three program settings to choose from for protein shakes, frozen desserts, and soup. There are also ten speed setting options that help you achieve the perfect texture. 
Design
The blender features a see-through container that's BPA-free, with clear markings located on top. The lid is also clear. This model comes equipped with wireless connectivity, a built-in digital timer, and a pulse feature. The blender's laser-cut blades are made out of stainless steel, so you won't have to worry about the blades bending or breaking when you're dealing with tougher foods or ice. 
Programs
The three program options for protein shakes, soup, and frozen desserts work by adjusting the blending time and speed automatically based on the container size you choose. The blender will also automatically shut off once the process is complete. 
However, for some, the three built-in blending presets may not offer the type of versatility they're looking for. If you're searching for a blender that offers more blending options we recommend the Ninja Chef blender, which is available at a comparable price. 
Display
The display is digital and bright, making it easy to read and adjust the settings and choose a preset option. 
The blender's display timer counts up the minutes for manual blends, which involves the user choosing the speed setting. The timer will also count down when you choose from one of the three programs. When counting down the remaining time, the blender will tell you exactly when the blending process will end. There isn't any guesswork involved. Instead, the motor automatically stops once the blending is complete. 
Performance
This blender is designed to withstand heavy daily use. While it only comes with a few blending programs, the ten variable speed settings to choose from more than makes up for it. 
The blender will look great in any kitchen, thanks to its stylish, sharp design. It's a major improvement over past models produced by Vitamix. The blender's tapered design will allow you to blend small amounts at a time, however, it's powerful enough to blend large loads of ice cream, protein shakes, crushed ice, veggies, and fruit. This model comes equipped with all the power you'll need to liquefy, chop, puree, or grind big batches. It also works for batches as small as four ounces. The large sixty-four-ounce container is clearly marked by cup, ounce, and millimeter measurements, making it very convenient to use and achieve the correct measurements if you're following a recipe. 
Since both the container and lid are see-through, you'll be able to easily keep an eye on the drink. The container itself is shorter in height, so it can easily fit in any kitchen cabinet. Despite the fact that the container is shorter, it can still handle up to sixty-four ounces, a capacity that's large enough to handle a few protein shakes at one time. 
Pros
See-through, BPA-free container

 

Pulse

 

Ten speed options

 

Three automatic blending programs

 

Digital interface
Mess-free spout

 

Built-in timer

 

Sleek design
Quiet-running

 

Wireless connectivity

 
Cons
Some buyers may find it a drawback that the blender only comes with three blending presets

 
Vitamix Ascent A2500 Blender Conclusion and Rating
Blender Hero.com Product Rating: (5/5)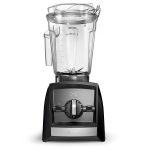 Finding a blender that's tough enough to handle making protein shakes on a daily basis isn't easy. In fact, most blenders wear out quickly or tend to stall out if you add ice to your morning shakes. But you won't have to worry about this with the Ascent. This high-performance blender was designed with power and efficiency in mind, making it easy to quickly blend a pre or post workout drink, make your favorite morning smoothie, or even a homemade chocolate shake. Versatile, easy to use and maintain, and priced affordably, Vitamix has designed a blender you can truly rely on. 
If you're searching for a top of the line high-performance blender that can handle protein shakes, smoothies, soup, and more, then look no further than the Ascent by Vitamix. This model is feature packed, easy to clean, durable, and its sleek design also makes it easy to store. We gave this model a rating of five out of five stars.
Check Price
Summary
Reviewer
Review Date
Reviewed Item
Vitamix Ascent A2500 High-Performance Blender
Author Rating